Biography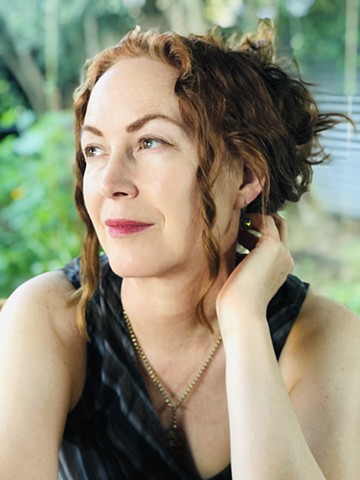 BIOGRAPHY
Kathryn St. Clair was born in Long Beach, CA and grew up in Wichita Falls, TX. She graduated with a BFA in Studio Art With Honors from the University of Texas at Austin in 1993. She went on to receive her MFA in Painting and Printmaking from the Massachusetts College of Art in Boston in 1996.
After spending the following year in Prague, (Czech Republic), she was awarded the William J. Fulbright Scholarship to Barcelona, Spain for Painting from 1997-1998. Her grant proposal was centered around images of women in Catholic iconography and the symbols and attributes associated with the female saints and the Virgin Mary. During the Fulbright grant she lived and painted in Barcelona. She spent much of her time delving into the vast visual resources available in museums, churches, and pilgrimage sites throughout Spain.
Kathryn moved to San Francisco in 1999. During her eleven years in San Francisco, she was active in a group studio of artists in the Mission (BASE Studio), and she participated in six consecutive years of the San Francisco Open Studios. She was represented by Limn Art Gallery from 2003 to 2011. Her work has evolved from figurative and narrative prints and drawings to abstract painting and into more landscape-inspired work. Her paintings are currently represented by the SFMOMA Artists Gallery in San Francisco. She works out of her painting studio in the historic McNear Building in downtown Petaluma.
Kathryn most recently mounted a solo exhibition of thirty-one paintings entitled, "Meditations on Volatility & Serenity / Landscapes of a New World: Paintings by Kathryn St. Clair" at the IceHouse Gallery in Petaluma; the show opened ran from October to November 2019 and was produced in partnership with Digital Grange Petaluma.
Her current body of artwork is focused on graphite drawings, watercolor, and oil on canvas landscapes of "imagined places." She is fascinated by the delicate interconnectedness of living things, the struggle for dominance in ecosystems, and the state of volatility and fragility in our environment.
Her past painting commissions include clients such as Holmes Cully, a structural engineering firm in San Francisco, and a range of private collectors in the Bay Area, the UK, Australia, and Sweden. Kathryn's work has recently been purchased and installed in the Stanford University Medical Center, and was commissioned by the U.S. Forest Service for a painting in their permanent collection. Images of her work have been installed in The Hyatt Regency in Greenville, SC, the Ritz-Carlton Buckhead in Atlanta, GA, and the Edgewater Hotel in Madison, WI.
She now lives with her husband and two young sons and has a painting studio in Petaluma.
Photo credit: Beau Bouverat